<![if !supportEmptyParas]> <![endif]>
<![if !supportEmptyParas]> <![endif]>
Eritrea-Ethiopia: The cat is out of the bag
Axworthy's futile mission exposed
---
Editorial
20 Feb 04
<![if !supportEmptyParas]> <![endif]>
The newly anointed UN special emissary and self-declared Messiah to Eritrea and Ethiopia, L. Axworthy, finally hit land in Ethiopia and wasted no time to let the cat out of the bag exposing his fantasy-ridden and magical solution: "Piecemeal
<![if !vml]>

<![endif]>demarcation". With that, not only did Axworthy voluntarily corroborate international skepticism about his messianic claims to succeed where every body else has failed but also declared his
self–declared mission dead on arrival because the game of "partial demarcation" has long been played and shot down by the Security Council right where it first landed on 19 Sep 03 before it even took off as follows: "The members of the Security Council wish to convey to you (PM Meles) their deep regret at the intention of the Government of Ethiopia not to accept the entirety of the delimitation and demarcation decision as decided by the Boundary Commission…. The members of the Security Council, therefore, call upon the Government of Ethiopia to provide its full and prompt cooperation to the Boundary commission and its field officers in order that demarcation can proceed in all sectors as directed by the Boundary commission." UNSC 01 Oct 03. Ethiopia remains defiant to this call to date.
<![if !supportEmptyParas]> <![endif]>
That being the fact of his fantasy mission, Axworthy came out combative and defensive for obvious reasons: cover up futility of his mission and job security. Axworthy's response to Asmara's reservation to his visit is only one such example: "I am used to doors being slammed on my face. But I am good at opening them. I will be in the region as long as it takes". There would be no need for all that if one had a case to be made, but Axworthy has no case and that is why he is combative and defensive.  Realizing that his fantasy of piecemeal demarcation won't take him to Eritrea, Axworthy has made Ethiopia, home of piecemeal demarcation, his domicile until further notice. Nothing wrong with that.
<![if !vml]>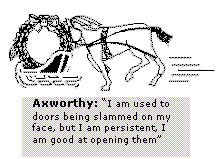 <![endif]>
Axworthy's difficulties stem from his conscious and deliberate mission to circumvent the decision of the Eritrea- Ethiopia Boundary Commission and to renegotiate it.
<![if !supportEmptyParas]> <![endif]>
What we have in the Horn of Africa is a final, binding, and non-negotiable decision that has settled the Eritro-Ethio border dispute conclusively and peacefully, on the one hand, and Eritrea and Ethiopia on the other hand. Eritrea has accepted the decision and the demarcation that has been determined by the decision without qualification and in accordance with Algiers peace accord that both countries signed. On the other hand, Ethiopia is defying the boundary decision simply because it did not go its way and in outright violation of the peace accord. Obviously, it is Ethiopia's defiance of the EEBC ruling that is preventing border demarcation, which Ethiopia unilaterally and under the threat of force stopped. It is then clear that if Axworthy's mission were to uphold EEBC decision, all he needs to do is to make it facile and smoother for Ethiopia to accept the boundary decision as is. As for Eritrea, he doesn't have to worry a bit: Accept and accept for the decision and the demarcation as determined by the decision. All without qualification. What better thing and more would Axworthy want to hear from Eritrea? And unless Axworthy has touristic interests in visiting Eritrea, that is all he gets to hear even from the horse's mouth. With that in mind, there is no harm in getting Axworthy to his fantasy city of Asmara and letting him listen to a prerecorded message of "Accept and Accept" as often as he wants if that makes feel better. And every time he utters a word, rewind the tape and let him listen to the same song again. How about that?
<![if !supportEmptyParas]> <![endif]>
Once Ethiopia accepts and abides by the EEBC decision and thereby determined demarcation without qualification, then whether the demarcation starts with the EASt, CENTRAL, OR WEST SECTORS becomes a matter of convenience and technical nature that can be easily handled by the field liaisons as determined by the EEBC. That is the natural order of things and all there is to the Eritrea-Ethiopia border issue.
<![if !supportEmptyParas]> <![endif]>
Mr. Axworthy, there is nothing to discuss, negotiate, or mediate. The Boundary ruling cannot be re-argued, re-opened in any form, or renegotiated. It is final, binding and without appeal. In Eritrea it is all systems go, just get Ethiopia into full compliance with the Commission's decision and case is closed. Other than that you would be banging your head against a brick wall for nothing, so to speak.
<![if !supportEmptyParas]> <![endif]>