THE STRATEGIC IMPORTANCE OF SETTLING THE ERITREA-ETHIOPIA BORDER DISPUTE
---

By The Sub Saharan Monitor Staff (Special to the site)
 

<![if !vml]>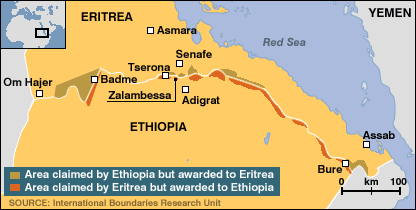 <![endif]>


Seven years after independence, Eritrea and Ethiopia were once again at war, fighting over Ethiopia's claims to sovereign Eritrean territory. Two years later, after more than 100,000 people died, the two countries signed a peace agreement in Algiers that established a United Nations commission to determine the legal border between Eritrea and Ethiopia. Both countries agreed that the findings of the commission would be "final and binding" and that the commission's rulings would have the force of law, respected in the same way as any international treaty would be.

Representative Edward Royce (R-California), the chairman of the subcommittee on Africa in the U.S. House of Representatives, said at a congressional hearing last October: "The commission represents the rule of law, which must be backed if this and Africa's so many other conflicts are to be resolved" (see full context of testimony).

The government of Ethiopia has persistently rejected the rulings of the Eritrea-Ethiopia Boundary Commission despite its clear promise to accept them. At that same subcommittee hearing, Congressman Donald Payne (D-New Jersey) observed that "Ethiopian authorities continue to obstruct, delay, and frustrate implementation of the Border Commission's decision."

Unfortunately, the chronic, nagging problem of Ethiopia's refusal to obey international law and allow the border to be properly demarcated has distracted both Eritrea and Ethiopia from playing their full and appropriate roles in the war on terrorism.

The United Nations, the European Union, and other international organizations have expressed their support for a rapid settlement of the border dispute between our countries. There is precedent, too: A longstanding boundary dispute between Qatar and Bahrain was settled through international legal action in 2001.

The Bush administration stated earlier this year:

"Both Ethiopia and Eritrea agreed to accept unequivocally the Eritrea Ethiopia Boundary Commission's decision as final and binding. The United States expects each government to uphold its commitment to abide by this agreement. The United States urges both parties to implement the Eritrea Ethiopia Boundary Commission's decision peacefully, fully and without delay" (see "Ethiopia-Eritrea Boundary Issue," U.S. Department of State, January 21, 2004).

Eritrea has always insisted on the validity and integrity of the Algiers Accords, and has always stated unequivocally that Asmara would accept the Boundary Commission's decisions.

As noted in a recent speech by the Eritrean Ambassador to Washington, Eritrea wishes to fulfill its role as a partner in the war on terror (see "Eritrean Ambassador Pledges His Country's Support in Global Terror War"). That country's strategic location, on the Red Sea across from the Arabian Peninsula, in a dangerous "neighborhood" that includes Somalia, Sudan, and Yemen, makes it both vulnerable to attack and useful for anti-terrorist operations by the United States and other allies. Foreign policy analyst Jonathan Schanzer of the Washington Institute for Near East Policy explained at a conference on African strategic issues in April:

"It is easy to move between the Gulf States and East Africa and the Horn by air and sea. The lengthy coastline from Eritrea to Tanzania is poorly monitored. The borders between these states are porous... . Nearly all of the international terrorism in the region has links to Islamic groups" (see "Leave No Continent Behind: U.S. National Security Interests in Africa." American Enterprise Institute, April 13, 2004).

This situation is fearsome and unacceptable, but as long as their own borders are not secure, Eritrea and Ethiopia are unable to give their full, undivided attention to global and regional responsibilities.

In a recent "Dear Colleague" letter addressed to every member of the House of Representatives, Representative Gregory Meeks (D-N.Y.) urged swift passage of HR 2760, the "Resolution of the Ethiopia-Eritrea Border Dispute Act," introduced last year by Representatives Tom Lantos (D-California) and Donald Payne, with several other cosponsors.

The United States needs to offer more than mere rhetorical support in this seemingly parochial boundary dispute. Further delays in demarcation are unacceptable. Peace and stability require nothing less.
____________________________________________________