Eritrea/Ethiopia: There's nothing to "give & take" prez Obasanjo
31 Jan 2005, EDnews – The Chinese News Agency, Xinhuanet, is reporting that the African Union has suggested a compromise between Eritrea and Ethiopia as the only way to end the border issue.
Horn of Africa observers say that unless the AU wants to renege on the Algiers Agreement, the time for "give and take" has come and gone and now what is left is only to "take" what either side has because the case is closed and the border decision is final.
"Once they cannot give and take, there is no way we can get a solution". No, Mr. president, the int'l community including Nigeria has established strict adherence to the Algiers Agreement as the only way out; and that is the only solution, not renegotiating the accord or revising the border decision only because it didn't go Ethiopia's way. How come Ethiopia can't be held accountable to its obligation to abide by binding international agreement and practice just like every other nation, president Obasanjo? That is a recipe for disaster.
<![if !vml]>
<![endif]><![if !mso]>

<![endif]>

<![if !vml]>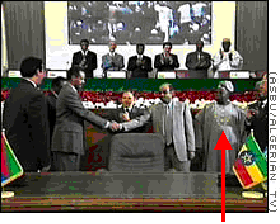 <![endif]>Afewerki, Meles, Bouteflika, prez Obasanjo, and Annan at the Algiers accord signing ceremony on 12 Dec 2000

<![if !mso]>

<![endif]><![if !mso & !vml]> <![endif]><![if !vml]>

<![endif]>What is wrong with the border decision except that it didn't go Ethiopia's way, president Obasanjo? Do Nigerians take their case to court to accept its ultimate decision only if in their favor otherwise to defy it, President Obasanjo? One has ever reason to seriously doubt that?

The same observers also find AU's stance bizarre for AU is one of signatories of the Algiers Agreement and President Obasanjo was physical present during the signing ceremony as a witness and guarantor to ensure strict adherence to the peace accord wherever the chips may fall. Following is full text of Xinhuanet:

The two-day African Union (AU) summit ended in Abuja Monday afternoon suggested a compromise between Ethiopia and Eritrea as the only way to end the protracted row between them.

AU Chairman, Nigeria's President Olusegun Obasanjo, who briefed reporters on the outcome of the summit, said: "What is needed is for both countries to be willing to give and take. That way, there could be a meeting point."

"Once they can not give and take, there is no way we can get a solution," he declared.

The two nations have been at each others' throats over the ownership of Badme, a village on the borders of the two with about 5,000 inhabitants. They fought a bitter battle over the village in2000.

An arbitration panel sat in Algeria in 2002 gave the disputed area to Eritrea, but Ethiopia has refused to hand over the village. ABUJA, Jan. 31 (Xinhuanet) --

<![if !supportEmptyParas]> <![endif]>