Blair seeks Africa action plan
By Andrew Cawthorne
<![if !vml]>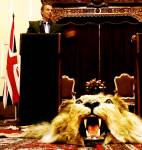 <![endif]>ADDIS ABABA, Thu 7 October, 2004 04 (Reuters) - Prime Minister Tony Blair is in Ethiopia to chair a summit today he hopes will turn Africa's problems into a global priority.
Blair is attending a meeting of the British-sponsored Commission for Africa, which is drawing up a policy agenda for London to press when it takes the leadership of both the Group of Eight (G8) industrial nations and European Union next year.
But despite Africa's great problems -- it is the only continent to have grown poorer in the last 25 years -- it is a tall order to make that a priority for wealthy countries gripped by their conflict with militant Islam.
Blair, who has constantly drawn attention to Africa during his seven years in power, said he had "high hopes" for his project: "We have made it clear that Africa should be the dominant theme -- along with the issue of climate change -- at our G8 presidency next year," he said late on Wednesday.
Blair insisted the Commission would spur real progress: "It is the action in the end that people need, not the words."
Standing alongside Ethiopian Prime Minister Meles Zenawi, he added: "The purpose ... is not to invent something entirely new in terms of the problems that Africa has.
"People know the problems of Africa. But it's to say these problems have got to be dealt with together -- debt, aid, trade, conflict resolution, governance in Africa."
Many observers are reserving judgment on the project promoted by the former colonial ruler of much of the continent.
Some aid agencies and analysts are sceptical it will produce results; others point out that Blair -- and his Chancellor Gordon Brown, who is on the Commission -- have invested so much personal capital they must be confident it will produce results.
ETHIOPIA EXAMPLE
The Commission also includes senior figures from Africa, such as Zenawi, and there is a dash of celebrity from Irish rocker and Third World campaigner Bob Geldof.
Set up this year, the Commission is expected early next year to call on rich nations to provide more aid and debt relief as well as better access to African exports, while urging Africans to improve their government and sort out their own conflicts.
"This is a partnership arrangement in which we need to do certain things, African countries need to do certain things," said Blair, who has made the trip days after a heart operation.
Host country Ethiopia exemplifies some of Africa's ills; one of the poorest nations in the world and associated for many with famine after searing televised images of mass starvation in the mid-1980s, aid agencies are warning again that many face renewed food shortages after the failure of rains.
A border dispute with Eritrea has also drained resources.
Before delivering a speech on Africa, which he has described in the past as a "scar on the conscience of the world", Blair is to visit health and children's projects outside the capital.
<![if !supportEmptyParas]> <![endif]>