Annan meets Eritrea president, border issue discussed
---
<![if !supportEmptyParas]> <![endif]>
<![if !supportEmptyParas]> <![endif]>
<![if !supportEmptyParas]> <![endif]>
<![if !vml]>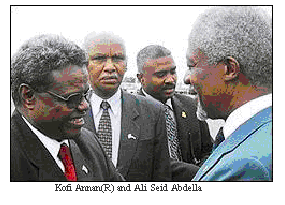 <![endif]>
NAIROBI (Reuters) - U.N. Secretary-General Kofi Annan met Eritrean President Isayas Afewerki on Saturday to try to kick-start a peace process with neighbouring Ethiopia and seek an end to movement limits on U.N. staff, a U.N. official said.
Annan hopes to jolt a stalled peace process between the tiny Horn of Africa country and its neighbour on a half-day visit to the capital Asmara, a representative of the U.N. Mission to Ethiopia and Eritrea (UNMEE) told Reuters by telephone.
"The main focus of his talks will be on the stalemate in the peace process and the difficulties our staff have operating in some parts of Eritrea," he said, declining to be identified.
"This is a critical period for UNMEE and the peace process, and it is perceived Mr Annan's visit will bring some hope of movement in the stalemate."

Relations between UNMEE and Eritrean authorities have soured in recent months after a vital supply route linking Asmara with Barentu, a town to the southwest of the capital, was closed to U.N. vehicles in March.

U.N. officials had feared earlier that Afewerki would snub Annan and instead send an envoy to meet him.

U.N. peacekeepers patrol a 15-mile (25-km) buffer zone along the unmarked, 620-mile (1,000-km) border between Eritrea and Ethiopia, which went to war between 1998 and 2000 in a dispute over the small Ethiopian-run border town of Badme.

An agreement signed in Algiers in 2000 ended the conflict, which left more than 70,000 people dead.

But demarcation of their disputed border has been indefinitely postponed since Ethiopia rejected a ruling by an independent boundary commission that said Badme was part of Eritrea.

Annan would later meet U.N. Development Programme staff in Asmara before flying to Ethiopia's capital Addis Ababa late on Saturday afternoon, the U.N. official said.
_______________________________________________________