Kofi Annan's Eritrea visit, synopsis
---
<![if !supportEmptyParas]> <![endif]>
7 July 2004- On Saturday morning, 3 July, Secretary-General Kofi Annan left Khartoum, Sudan, to fly to Asmara, Eritrea, where he was briefed on the UN Mission in Ethiopia and Eritrea.
<![if !supportLineBreakNewLine]>
<![endif]>
Special Representative Legwaila Joseph Legwaila reported on the status of the peace process, including the stalemate in the process as a result of a disagreement over the demarcation of the border. Major Geneneral Robert Gordon, the Force Commander, gave a military briefing, and Simon Nhongo, the United Nations Development Programme (UNDP) Resident Humanitarian Coordinator, described the economic situation in the country.
<![if !supportLineBreakNewLine]>
<![endif]>
The Secretary-General then visited the headquarters of the nearby Finnish Battalion, and then went to the UN compound in Asmara where he interacted with several hundred local and international staff. Asked if he was optimistic about the prospect of success in the mission, he joked, "I'm always optimistic, otherwise I can't do this job." But he went on to say, "We came here to do a job; we intend for it to be limited", adding, "I don't think the [Security] Council and the world will allow us to remain indefinitely without progress."
<![if !supportLineBreakNewLine]>
<![endif]>
<![if !vml]>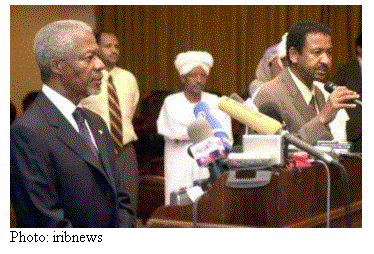 <![endif]>On his return to his hotel, he was greeted by representatives of Eritrea's four major religions: Islam, Catholicism, Protestantism and the Orthodox Church. He was also presented with a petition signed by 24 non-governmental organizations, calling on him to expeditiously demarcate the Eritrea-Ethiopia border.
  
Later that afternoon, he had a meeting with Eritrean President Isaias Afwerki to review the status of the peace process. The Secretary-General cited the intelligent way that Nigeria and Cameroon are handling their border dispute in the Bakassi Peninsula as a model that Ethiopia and Eritrea might follow. He also asked the President for Eritrea's help in finding a political solution in the Sudan.
<![if !supportLineBreakNewLine]>
<![endif]>
<![if !supportEmptyParas]> <![endif]>
<![if !supportEmptyParas]> <![endif]>
In the late afternoon, he flew to Addis Ababa, Ethiopia, where he was to attend the African Union Summit.
Source: UNSG, SG/T/2413 - 07/07/2004
_________________________________________________________
<![if !supportEmptyParas]> <![endif]>
<![if !supportEmptyParas]> <![endif]>
<![if !supportEmptyParas]> <![endif]>