Testimony to UN Rights Body: Eritrea counter to any country in
the world- BBC Rprt
03 June 2016

The Med Disaster: Eritrean Survivors recount their ordeal-
Tigrigna
01 June 2016

Over 700 migrants primarily from Eritrea drown in recent
Mediterranean crossings
30 May2016

Eritrea tyrant's FM: What Human Rights? Human Rights My Foot!
27 May2016

Eritrea@25: No Life! Too Much Hungry! BBC Report
26 May2016

Eritrea@25: Eritrea Tyrant terms the US Government
'Washington Gangs'
25 May2016

Eritrea tyrant Isias Afarqi: Africa's Wannabe Mao with ever
pitch-black Mustache!
19 May2016

Eritrea@25: Nothing to Party, Show for, but Everything to Cry
For! - France24
14 May2016

Swiss Eritrea Report Shocker: Eritrea tyrant is a con man
through and through
10 May2016

PM Cameron blasts Eritrea tyrant's reign, vows review of new
refugee guidelines
06 May2016

Norway bars Eritreans from homeland travel to celebrate with
Eritrea tyrant
04 May2016

UK Report: Situation of Human Rights, i.a., in Eritrea remains of
serious Concern
30 Apr 2016

The US Stands with the People of Eritrea not With Eritrea
Tyrant, Amb. S. Rice
28 Apr 2016

LIVE: 3 Apr 16 Asmara Carnage of Young Conscripts by Eritrea
Tyrant's Troops
20 Apr 2016

A Ghastly Asmara Massacre Reminder Why So Many Are Fleeing
Eritrea
13 Apr 2016

Asmara Massacre: 3000+ Robocalls agitating nation contra
Eritrea tyrant placed
12 Apr 2016

The Sounds of Eritrea tyrant's National Service at Gunpoint,
killing & wounding
06 Apr 2016

Lies of Eritrea tyrant's UN lackey on constitutional Women
Parliamentary Seats
31 Mar 2016

Bad News for Eritrea Tyrant: ICC Rules Rape's Crime against
Humanity- Video
28 Mar 2016

France Demands Eritrea Tyrant Releases Remaining Djiboutian
POW's
22 Mar 2016

US welcomes release of Djiboutian POW's, Remains concerned for
remaining POW's
20 Mar 2016

Eritrea is all Indefinite Conscription, Rule by Fear, no Free
Press… FRANCE24
19 Mar 2016

Eritrea Tyrant Capitulates, Releases Some Djibouti POW's
Unconditionally
18 Mar 2016

Eritrea Tyrant admits openly: Salary hike just Numbers Game,
one can't live on it
17 Mar 2016

UN Eritrea visitors blast Eritrea tyrant for lack of Constitution,
legislature & more
15 Mar 2016

Eritrea tyrant's killer Joke: No indefinite national service, it's
only been extended!
14 Mar 2016

EU MP's in Unison: No EU Money in the Hands of Eritrea Tyrant
11 Mar 2016

EU Adopts strong Resolution against Eritrea Tyrant, protests
dubious Dev. Fund
10 Mar 2016

The
Debate: EU MP's Come Down On Eritrea Tyrant Like a Ton of
Bricks!
09 Mar 2016

After Eritrea, Swiss POL's likely to call Botswana Africa's
Switzerland- Radio24
07 Mar 2016

Sudan's Prominent Leader of the Opposition Popular Congress
Party Dies
05 Mar 2016

Djibouti tells Qatar No Deal With Eritrea Tyrant Absent Release Of
POW's
03 Mar 2016

Belgium, Brussels: EU MP's Filed Motion After Motion Against
Eritrea Tyrant
03 Mar 2016

UN, Geneva: Eritrea Tyrant Pleads With The Int'l. Community To
Be Left Alone!
02 Mar 2016

Eritrea(Tyrant) releases 80 Ethiopians he allegedly abducted
29 Feb 2016

Eritrea's Ambitious Mining Industry Faces Hurdles: Human Rights
Violations
28 Feb 2016

From Eritrea Tyrant with Love: National Service Remains
indefinite- blame Ethiopia
26 Feb 2016

From Eritrea Tyrant with Love: Prez. Al Bashir, Al Sisi, Please
Save My Soul
25 Feb 2016

Human Rights Council, Geneva: Making a strong case against
Eritrea Tyrant
23 Feb 2016

UN bars Eritrea tyrant's Media Surrogate ICP from Security
Council Briefing room
22 Feb 2016

UN Security Council Sanctions Committee: Eritrea Tyrant Far
From Compliance!
19 Feb 2016

Swiss MP: Eritrea No ordinary Tourist Destination, chronic Lack of
Basic Utilities
17 Feb 2016

NEVSUN'S new Discovery: Eritrea Land of Liberal Democracy!
15 Feb 2016

Blowing the lid off Nevsun's Dealings with certified Eritrea
Tyrant- the fifth estate
13 Feb 2016

Netherlands: Van Reisen Prevails, Eritrea tyrant's lackey fails,
like verdict looms
12 Feb 2016

Eritrea tyrant's Kenya Agent flatly denying mass exodus of
Eritreans, Repression!
06 Feb 2016

UNSC President: Nobody can do anything about sanctions on
Eritrea tyrant
03 Feb 2016

Taking the lid off Eritrea tyrant: David Smith, Leonard Vincent on
Eritrea exodus
02 Feb 2016

Eritrea Tyrant No Show Again At Major AU Summit For Good
Reason!
30 Jan 2016

Quiet EU Eritrea Tyrant Long-term Development Aid Deal Double-
edged Sword!
29 Jan 2016

Polygamy story not reality but Bigtime Pointer to Lack of Rule of
Law in Eritrea!
28 Jan 2016

Constitution Adieu! Eritrea Tyrant devises 'Book of Governance'
to avoid demise!
25 Jan 2016

Eritrea Tyrant submits he failed to provide sincere answer to
Nation's Questions!
23 Jan 2016

Plans to sabotage, intimidate UN Rights COI by Eritrea tyrant's
lackeys exposed!
20 Jan 2016

European Parliament Resolution on Ethiopia (2016/2520(RSP))
19 Jan 2016

Eritrea@Jubilee: Save the tyrant, vive le tyran! Eritrea tyrant's
Rule by Fear Live!
15 Jan 2016

Eritrea tyrant again under fire UK House of Lords for Crimes
against humanity, etc

Eritrea tyrant dodges the bullet, bows & vows to serve Saudi
Coalition demands unreservedly
24 Dec 2015

Saudi Arabia Summons & Holds Eritrea Tyrant for Crucial
Security Interrogation!
22 Dec 2015

Eritrea Tyrant in Trouble! Qatar Emir's urgent blitz visit with
Eritrea tyrant!
19 Dec 2015

Human Rights Day 2015: In Eritrea Every Day is Human Rights
Violation Day!
11 Dec 2015

Amnesty Int'l: It's the 'National Service' stupid causing mass
exodus of Eritreans
03 Dec 2015

US Senate Confirms Gayle Smith much to the dismay of Eritrea
tyrant/H. Cohen
01 Dec 2015

Eritrea tyrant: We Are Not on A War Footing, to say so Is
Insanity!
25 Nov 2015

@UN, Eritrea tyrant playing the defendant, law, prosecutor,
judge in matters Rights
18 Nov 2015

Eritrea: Reign of Fear, Regime Critiques Risk It All! - RTLNews
14 Nov 2015

Valletta: Unscrupulous Being in Control of Eritrea & its People-
Francois Hollande
13 Nov 2015

Valletta: No cash for Eritrea tyrant, EU Aid via NGO's/UN
agencies, EU Dev. Chief!
12 Nov 2015

UK: No Funding of Eritrea tyrant, EU Aid via reputable NGO's, UN
Agencies
10 Nov 2015

Head EU Eritrea on Site Decries Lack of Rule of Law, Flagrant
Rights Violations
09 Nov 2015

Eritrea: The Forgotten Dictatorship, North Korea of Africa, EU
Dilemma-RT TV
08 Nov 2015

Eritrea Tyrant: Exodus of Eritreans Not My Fault, It's all
ET/US/EU Conspiracy!
07 Nov 2015

End Tyranny in Eritrea to stem Exodus of Eritreans- Ethiopia PM
tells BBC Radio
06 Nov 2015

Swiss TV Destroys Eritrea tyrant's Swiss Lackey Dr. Toni Locher
Live
05 Nov 2015

UN: Eritrea tyrant engaged in Yemen Fighting including troop
contribution- CCTV
04 Nov 2015

Testimony to UN Rights Report: Eritrea tyrant's top lackey, YG
Meskel speaks out!
01 Nov 2015

@UN: Eritrea tyrant's unruly, abusive reaction to Report of UN
Rights Inquiry body
30 Oct 2015

Africa India Forum Summit: Indians Cracking Jokes at Eritrea
tyrant's absence!
29 Oct 2015

Security Council Res that sent Eritrea tyrant et Lackeys
Slandering US & UN
26 Oct 2015

Security Council votes to keep Eritrea tyrant under Sanctions
without Objection
23 Oct 2015

UN Sanction Monitoring Report: Eritrea tyrant remains non-
compliant as ever!
21 Oct 2015

EU urges Eritrea tyrant to Respect Human Rights & Dignity of
Eritreans -Video
21 Oct 2015

Botswana: No deportation, Eritrea Players Asylum Request
Accorded due process!
16 Oct 2015

Nearly Half of Eritrea Football National Team Seeks Asylum in
Botswana
14 Oct 2015

The Latest Joke @UNGA70: Eritrea tyrant declares progress in
human Rights (AP)
03 Oct 2015

@UNGA70: Eritrea Tyrant Danger to Region and Int'l Community-
Djibouti Prez.
01 Oct 2015

Eritrea: "It's the Human Rights" very wrong- UN
29 Sep 2015

US Senate Calls on Eritrea Tyrant to Free his captive for over a
decade Aster Yohannes
26 Sep 2015

Ex-official says FORCED LABOR built Canada Mine (NEVSUN) In
Eritrea
17 Sep 2015

Eritrea tyrant's key ally, major armed Ethiopian rebels
surrender to Ethiopian authorities
09 Sep 2015

Eritrea: Africa's Gulag! Why The Exodus -SWR2 German Radio
Report
02 Sep 2015

September 1: A National Holiday Eritrea Tyrant Wishes Never
Were!
31 Aug 2015

No Signs Only Reports: Eritrea Tyrant's Back From Recent Qatar
Trip
!
26 Aug 2015

Bruton Flip-flops: She now says much of the criticism of Eritrea
Gov't is valid!
24 Aug 2015

Swiss Special Amb.: The Situation In Eritrea Is Disastrous, ergo
the mass exodus
!
15 Aug 2015

UN Report, Exodus of Eritreans Plaguing Eritrea Tyrant's top
Lackey Everywhere!
11 Aug 2015

Switzerland: Eritrea Lawless, Injustice, and Tyrannical State!
06 Aug 2015

Eritrea North Korea of Africa in Hairstyle too!
04 Aug 2015

Few Causes For Mass Exodus Of Eritreans -TV FRANCE 24
31 Jul 2015

World Economic Forum: Eritrea Most Indebted African Nation!
28 Jul 2015

Friendly RT Too Grills Eritrea Tyrant's Top Lackey On Exodus of
Eritreans-2nd in 3Days!
25 Jul 2015

Switzerland: Eritrean Asylees Forfeit Residency for Visiting
Homeland!
23 Jul 2015

Israel to Eritrean Refugees: Leave or Languish in Indefinite
Detention!
20 Jul 2015

UN Eritrea Sanctions Briefing: Eritrea Tyrant Remains Non-
Compliant!
17 Jul 2015

Eritrea tyrant stumbles embarrassingly over his own stats that
exposed utter failure of his militarized Ed.!
13 Jul 2015

Geneva/UN: Eritrea tyrant rejects call for rule of law, pleads for
more yrs of Rule by Fear!
05 Jul 2015

Eritrea: UN adopts Res.L23 Extending Term of SR, COI, with
Broader Mandate
02 Jul 2015

Eritrea Tyrant No Show on Al Bashir's Inauguration, His
Ethiopian Nemesis Showed Up!
02 Jun 2015

Eritrea: HRC draft Res extending term of SR, Inquiry Commission
with broader mandate
30 Jun 2015

The US Calls For Action In Response to Abhorrent UN Eritrea
Rights Report
30 Jun 2015

GENEVA: Eritrea Tyrant's Yet Another Disgraceful Show At UN
Human Rights Council Session
28 Jun 2015

Eritrea Tyrant's Lackeys Displaying Largerst Ethiopian Flag At
An Eritrean Rally!
27 Jun 2015

GENEVA: Eritreans In Europe Rally bigtime In Support of UN
Rights Report
26 Jun 2015

UN Investigator: Send Eritrea Tyrant to the International
Criminal Court!
24 Jun 2015

At UN: Eritrea Tyrant Hit with Intimidation, threats against
Members of Inquiry Commission!
23 Jun 2015

UN To Debate Damning Report on Eritrea Tyrant's Human Rights
Violations
-AUDIO
23 Jun 2015

Eritrea Tyrant: Open-ended National Service Is there to stay!
22 Jun 2015


Eritrea@24: Torture National Symbol of Eritrea under Tyrant
Isas Afareki!
22 Jun 2015

Eritrea tyrant's Crimes against Humanity Illustrated- The
Refugee Artist Explains
20 Jun 2015

House of Lords Closes the Doors on Eritrea Tyrant's Propaganda
Event!
19 Jun 2015

PRESSTV: UN Inquiry Report Accuses Eritrea Tyrant of Crimes
Against Humanity!
17 Jun 2015

Eritrea tyrant under fire for crimes against humanity in the
House of Lords today
16 Jun 2015

Horrifying UN Eritrea Report Unites German Parliamentarians
against Eritrea Tyrant
15 Jun 2015

Eritrea tyrant devastated by UN Report, seeking Refuge in
Sudan & getting an earful!
12 Jun 2015

UN Report Accuses Eritrea Tyrant Of Crimes Against Humanity-
CCTV
11 Jun 2015

Narrative Of Eritrea Tyrant's Crimes Against Humanity -
HuffPost Video
10 Jun 2015

UN Report Hits Eritrea Tyrant With Crimes Against Humanity,
Rule by Fear!
08 Jun 2015

Eritrea Tyrant: Our Economy Is Better Than Any Other Economy
In Africa!
07 Jun 2015

Eritrea@24: Eritrea One Bullet Away From Fundamental Change-
Martin Plaut (BBC)!
06 Jun 2015
Eritrea@24: Unending Deadly Odyssey Of Eritrean Youth Fleeing
Brutal Tyranny
31 May 2015

Eritrea@24: EU Hypocrisy and Delusion on Aid to Eritrea Tyrant-
UKIP MEP
29 May 2015

Eritrea@24: EU Aid, Eritrea Tyrant under Total Heavy Fire in the
EU Parliament
27 May 2015

Eritrea@24: Messages Only! No One Wants To Be Seen With
Eritrea Tyrant
26 May 2015

Eritrea@24: Eritrea Tyrant's Anti-US Vituperative Harangue
24 May 2015

Eritrea@24: The US Stands With The People Of Eritrea Against
Eritrea Tyrant
23 May 2015

Eritrea@24: Gangland! No constitution, Elections, Parliament,
Freedom of Anything!
22 May 2015

Eritrea@24: Eritreans fleeing ruthless repression, penniless
military service -CNN
21 May 2015

Eritrea@24: Land of Misery to its Own people, Land of Prosperity
to Mining investors!
20 May 2015

ERITREA@24: A NATIONAL DISSERVICE!
18 May 2015

Eritrea@24: Heaven To Mining Investors, Hell To Its Own People!
16 May 2015

EU Lists Human Rights Abuses, e.g. Eritrea Tyrant, Root Cause Of
Migration
12 May 2015

Eritrea Tyrant's Senior AU/ECA Diplomat Defects in Ethiopia!
10 May 2015

Eritrea: The Unhappy Nation Until Human Mortality Takes Care
Of The Tyrant!
ABC RADIO AUSTRALIA
09 May 2015

Who's To Blame? Eritrean Refugee Killed By ISIS After Leaving
Israel
06 May 2015

La dolce vita in Eritrea 'THE OTHER NARRATIVE', so why are so
many Eritreans fleeing it risking lives
-BBC2 RADIO
05 May 2015

La dolche vita in Eritrea: "THE OTHER NARRATIVE" that even its
authors won't live it!
03 May 2015

Yemen Alliance Paranoia Sends Eritrea Tyrant Seeking Saudi
Cover
30 Apr 2015

Desperate, Embarrassing Exposé in defense of Eritrea tyrant on
RT, VOA
29 Apr 2015

Death in the Mediterranean: Eritreans dying en masse fleeing
harsh dictatorship-60 MINUTES
27 Apr 2015

Eritrean Refugee gives birth following rescue from ship wreck in
Rhodes, Greece
26 Apr 2015

UN: 350 Eritrean refugees perish in The Med in deadliest boat
disaster!
21 Apr 2015

Vienna Lies on Monitoring Group, Eritrea tyrant's support of Al
Shabab
20 Apr 2015

Israel hands out deportation notices to African asylum seekers
including Eritreans
17 Apr 2015

Eritrea tyrant not a dictator because the people love him,
regular, not rich!
16 Apr 2015

Italy: Prosperini, Eritrea tyrant's illegal arms supplier gets 4
years in jail
14 Apr 2015

UN Inquiry Body Crisscrossing Europe Listening To Victims of
Eritrea tyrant
07 Apr 2015

Israel's scandalous treatment of African refugees, including
Eritreans
06 Apr 2015

Rights groups fear EU policy shift on Eritrea
02 Apr 2015

Press Release: Eritrea tyrant's Yemen Hysteria, Lies, and the
ultimate joke!
01 Apr 2015

Increased security at Nevsun's Eritrea Mine, operation
resumes, investigation continues
30 Mar 2015

U.S. Department of State: Status of U.S. Relations with Eritrea
28 Mar 2015

Ethiopia neither confirms nor denies reports of bombing
targets in Eritrea!
27 Mar 2015

EU perpetuating tyranny, cause of exodus from Eritrea, under
guise of Dev Aid!
25 Mar 2015

Nevsun not sure what happened at its Eritrea Project, not
ruling out any possibilities
23 Mar 2015

Nevsun admits destructive act at its Bisha Gold Mining plant in
Eritrea
22 Mar 2015

UN investigators: No Rule of Law in Eritrea, clear violations of
Rights!
17 Mar 2015

UN Eritrea Commission: Most Eritreans have no hope for their
future!
17 Mar 2015

UN Eritrea Commission hits Eritrea tyrant with clear patterns
of Human Rights violations
16 Mar 2015

BBC Documentary: Inside the secretive and repressive state of
Eritrea
15 Mar 2015

Switzerland: The other Reportage: Inside the secretive state of
Eritrea
14 Mar 2015

BBC Radio: Say all you want Hakim, Eritrea remains most
repressive state!
11 Mar 2015

BBC's Eritrea taletale: Eritrea remains most repressive state
II
12 Mar 2015

8 March: Eritrea tyrant hit with utter abuse of Eritrean Women
in National Service!
09 Mar 2015

UN Women's Rights Convent Concludes urging Eritrea tyrant to
commit political suicide!
06 Mar 2015

DR2 Investigates: Danish Eritrea Mission that failed
05 Mar 201

Dangerous Journey For Kids Escaping Eritrea Tyrant
03 Mar 2015

Eritrea Tyrant blasted embarrassingly for blatant abuse of
Women and Women's Rights at UN Women's Rights Convent
27 Feb 2015

Fleeing Eritrea Tyrant: Eritrean Children Migrating To Europe
Alone!
24 Feb 2015

Djibouti: Peace with Eritrea Tyrant not possible, Qatar
mediation fruitless!
20 Feb 2015

Canada: Former Refugees including Eritreans Lose Residency
for Visiting Homeland!
18 Feb 2015

Swiss Eritrea Fact-finding Mission: Deporting Eritrean
Refugees No Option for Switzerland
10 Feb 2015

Djibouti and Ethiopia on Saturday accused Eritrea tyrant of
undermining regional stability
08 Feb 2015

Danish Eritrea Report: A Report That Sucks! - Danish
Newspaper

Denmark Admits: Danish Eritrea Report Cooked Up!
10 Dec 2014

Denmark makes U-turn On Eritrean Refugees, puts 'Eritrea
Report' on ice!
10 Dec 2014

Danish Eritrea Report: 2 of 3 authors disavow Report, final
nail in the coffin!
Tamrat Kebede denounces it too!
08 Dec 2014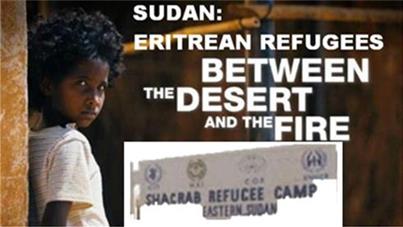 Danish Eritrea Report: A Report That Sucks! - Danish
Newspaper
12 Dec 2014

Denmark Admits: Danish Eritrea Report Cooked Up!
10 Dec 2014

Denmark makes U-turn On Eritrean Refugees, puts 'Eritrea
Report' on ice!
10 Dec 2014

Danish Eritrea Report: 2 of 3 authors disavow Report, final
nail in the coffin! Tamrat Kebede denounces it too!
08 Dec 2014

Eritrea Tyrant's Sweden chargé d'affaires Dismantles Danish
Eritrea Report
02 Dec 2014

Danish Eritrea Report falls apart, not single support, under fire
left and right!
01 Dec 2014

Eritrea Tyrant's Worst Nightmare: UN Rights Commission Of
Inquiry Starts Operation!
21 Nov 2014

Plight of Eritrean Refugees: Housed in Underground Nuclear
Bunker in Switzerland
14 Nov 2014

Constitution: Compaore tampers with to his demise, Eritrea
tyrant scrapped it all!
11 Nov 2014

Eritrea tyrant gets hammered again for Human and HR abuse
at UN Session
30 Oct 2014

Eritrea tyrant under UN Sanctions for being Threat to
International Peace & Security
27 Oct 2014

Eritrea Tyrant's Weekly Embarrassment Courtesy of his Paris
agent, 16 October 2014
17 Oct 2014

Eritrea Tyrant's Annual UN Sanction Nightmare: Remains Non-
Compliant
15 Oct 2014

Commemoration of 1st Anniversary of 3Oct13 Lampedusa
Massacre of 369 Eritrean Refugees kicks off
01 Oct 2014

UNSG tells Eritrea tyrant to cooperate with HR Commission of
Inquiry, Rapporteur
01 Oct 2014

ESCAPE ROUTES: Plight of Eritreans Fleeing Eritrea Tyrant's
Brutal Reign!
26 Sep 2014

Israel: Rule of Law or Rule of Might in Handling African
Refugees?
23 Sep 2014

Eritrea: Time for EU to put its money where its mouth is!
20 Sep 2014

18 Sep 2001: Advent of overt Tyranny and demise of
Democracy in Eritrea
18 Sep 2014

Egypt Disgraces Eritrea Tyrant, Denies Him Display Of National
Flag!
12Sep 2014

Sweden: Eritrea Tyrant Hit With Illegal Liquor Trafficking!
09 Sep 2014

Sweden chases yet another Eritrea Tyrant's top consular
diplomat out of town stat!
05 Sep 2014

Eritrea tyrant's currency turned into Resistance Flyers,
rushes for reprint in Sudan!
03 Sep 2014

Septembe 1: A National Holiday Eritrea Tyrant Wishes Never
Were!
01 Sep 2014

Israel thankful to int'l asylum protection for its survival, now
unsafe for asylum seekers!
31 Aug 2014

Eritrea Tyrant's Border Guards Shoot 10 Citizens Trying To
Flee, Again!
26 Aug 2014

Eritrea Tyrant worst of all: Plight of Eritrean Refugees takes
center stage in France
20 Aug 2014

Eritrea Tyrant kidnaps Djibouti Officer, Provokes Yet Another
War!
16 Aug 2014

The Eritrean Experience: Promise Democracy, Serve Utter
Tyranny!
07 Aug 2014

US Africa Leaders Summit: The Agony of Eritrea Tyrant's
Lackeys!
06 Aug 2014

YPFDJ Thugs "ERI BLOOD": Eritrea Tyrant's Version of
Mussolini's 'Camicie Nere'
30 July 2014

EXPO 2015 Milan: Move To Bar Eritrea Tyrant's Participation!
18 July 2014

Canada arrests Eritrea tyrant's 2% expat extortion tax, it's
final!
16 July 2014

Canada about to close Eritrea Tyrant's Consulate over Tax
Extortion stat
10 July 2014

Eritrea Tyrant's Bologna Fiasco: Post Mortem!
7 July 2014

Eritrea Tyrant's Bologna Festival: BIGTIME FIASCO!
4 July 2014

Italy's deputy FM: Under Eritrea tyrant, Asmara Substantially
Isolated!
3 July 2014

The Bologna Effect: No more Eritrea Tyrant's Festival in
Germany!
4 July 2014

Eritrea Tyrant & Co. Face Arrest In Sweden For Crimes
Against Humanity!
02 July 2014

City of Bologna Boycotts Eritrea tyrant's Fiesta, withdraws
sponsorship
28 June 2014

Shame Italy: Bologna hosts Eritrea tyrant's Fiesta on
Lampedusa graveyards
27 June 2014

UN Rights Council Adopts Res. to investigate Eritrea tyrant for
human abuse
27 June 2014

Shame Italy: Bologna Eritrea Festival celebrating crime
against humanity
25 June 2014

Bologna Integral Part Of Eritrean History, So Is Lampedusa,
Big-time!
25 June 2014

20 June: Eritrea Tyrants Mockery, crocodile tears on Martyrs'
Day
20 June 2014

Norway: Beyond talk what more to address Eritrea tyrant's HR
abuse?
19 June 2014

Eritrea tyrant gets hammered for human abuse again- Rights
Council UPR 2014
18 June 2014

Eritrea Tyrant versus Eritrean Catholic Bishops & The Vatican
14 June 2014

Ukraine hits Eritrea tyrant with diplomatic banditry in Crimea
12 June 2014

BBC World Service: Focus on Eritrea Tyrant
10 June 2014

Eritrea 'desolate' - Eritrean Catholic bishops!
09 June 2014

Kowtowing to Russia: Eritrea tyrant pays homage to Crimea,
South Ossetia!
07 June 2014

Bustin' Loose: Combat pilot Dejen A H busts Eritrea tyrant's jail
gate to freedom!
02 June 2014

Norway bars Eritrea tyrant's lackeys from traveling to Eritrea!

29 May 2014

US behind people of Eritrea in quest for democratic Eritrea, J.
Kerry
27 May 2014

Eritrea Tyrant's Indy Day Swindle: Promise to start drafting
national constitution
24 May 2014

South Africa's Amb. To Eritrea Embarrassing TV Exposé,
Nervous, Confused!
23 May 2014

Netherlands: Refugees from Eritrea, N. Korea of Africa, not
safe, no freedom -terrible Regime!
22 May 2014

The Netherlands: Eritrea Tyrant Involved In Human
Trafficking, report!
19 May 2014

Libya: Deadly Door To Europe For Eritrean Refugees!
18 May 2014

German Police intercept 30 illegal migrants, 29 Eritreans, one
Syrian
14 May 2014

AU Comm.Report: In Asmara to inculcate Djibouti Reality in
Eritrea tyrant
11 May 2014
Press Release: US, Djibouti Long Term Security Agreement
Sealed!
06 May 2014

Smuggling Boats Capsize, 22 Migrants Drown, 3 Eritreans
Rescued
05 May 2014 UPDATED!

Meb Kiflezighi Photo Op With Eritrea Tyrant: What Say The
Sponsors?
01 Mayl 2014

UN Secretary General Ban Ki-moon Recognizes Meb Kiflezghi
28 April 2014

South Sudan Frees Leaders Accused Of Plotting Coup
25 April 2014

China Imports Copper from Eritrea big-time, Supplier
Unknown!
24 April 2014

UAE Ruler Donates Clothing To 5000 Needy Eritreans
23 April 2014

Libya All Set To Expel African Migrants Including Eritreans
22 April 2014

Finally! An American Wins Boston Marathon At The Right
Time in 31 Years!
22 April 2014

EU Bans All Eritrea-Based Airlines In Latest Update
18 April 2014

US President Obama To Host Djibouti President On May 5
17 April 2014

EU-Africa Summit 2014 Off Limits To Eritrea Tyrant!
31 Mar 2014

Eritrea Tyrant Bars National Soccer Team from CAN 2015
30 Mar 2014

Mystery Arrest: Eritrea Tyrant Arrests US Citizen
Incommunicado!
27 Mar 2014

Family Of Eritrea Tyrant's Forto Shocker Resettled In
NORWAY
20 Mar 2014

Australia after Eritrea tyrant for extorting money under
guise of Tax
16 Mar 2014

Eritrea Tyrant's Econ. Guru: National Service Is All Slave
Labor, Audio
10 Mar 2014

Norway after Eritrea tyrant's lackeys/agents for Abuse of
Asylum Right
02 Mar 2014

Eritrea tyrant turns to Russia to restore relations with
Ethiopia
18 Feb 2014

Eritrea Tyrant's Yet Another Disgracefull TV Exposé
10 Feb 2014

Eritrea Tyrant Implicated In south Sudan Conflict
06 Feb 2014

UN Review: Eritrea Tyrant Under Int'l Fire For Human
Rights Abuse
04 Feb 2014